The Sea of Okhotsk - with National Geographic
Booking Dates
11/21/2019 through 10/01/2021
Travel Dates
11/21/2019 through 10/18/2021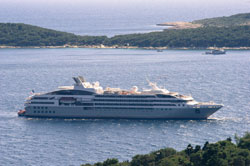 The Sea of Okhotsk – with National Geographic
In partnership with National Geographic Expeditions.
PONANT invites you to discover the Russian Far East, and the highlights of the Sea of Okhotsk. Set sail for a 15-day expedition cruise aboard Le Soléal and fall under the spell of this unique unspoiled and little-visited region, home to rich wildlife on land as well as in the sea.
You will board your ship in Petropavlovsk-Kamchatsky, in the south of Kamchatka, a peninsula of spectacular volcanic landscapes, where you may have the chance to observe the Kamchatka brown bear.
You will then sail on the SeaofOkhotsk, covered with ice for a large part of the year. If luck is on your side, it is possible to see ribbonseals, a rare species that is found only here.
Before discovering Iony Island, a refuge for many sea birds, do not miss the visit to Magadan and Okhotsk, two fishing towns at the heart of a region where the sea is teeming with fish.
Off the coast of Sakhalin Island, you will call at Tulenyi, a small strip of land where Steller sea lions enjoy basking.
LeSoléal will finally reach Otaru, in Japan, your port of disembarkation.
We are privileged guests in these extreme lands where we are at the mercy of weather and ice conditions. The itinerary, landings on certain sites and the observation of certain wildlife cannot be guaranteed. They vary from day to day, making each PONANT cruise a unique experience. The Captain and the Expedition Leader will make every effort to ensure that your experience is as rich as possible, while complying with the safety rules and instructions imposed by the AECO.
Itinerary
Destination
Pricing
Terms and Conditions
| Day | Description | View All |
| --- | --- | --- |
| Day 1 | Petropavlovsk-KamcHatsky | Details |
| Day 2 | Vestnik Bay | Details |
| Day 3 | Kambalnaya Bay | Details |
| Day 4 | Ostrova Ptichi Sakhalin Oblas | Details |
| Day 5 | Antsiferov Island | Details |
| Day 5 | Atlasovo | Details |
| Day 6 | Krutogorova River | Details |
| Day 7 | At Sea | Details |
| Day 8 | Zavyalov Island | Details |
| Day 8 | Magadan | Details |
| Day 9 | Okhotsk | Details |
| Day 10 | Iony Island | Details |
| Day 11 | Piltun Bay | Details |
| Day 12 | Nabilskiy Bay | Details |
| Day 13 | Tulenyi | Details |
| Day 14 | Korsakov | Details |
| Day 15 | Otaru, Hokkaido | Details |